It is a tough task to choose right necklace according to your body, height, face shape, outfit and specially occasion because when you meet people their attention are drawn to neckline after your face . Of course you don't want to look gipsy in any interview and also to look ordinary in a party. So, before buying a necklace you have to consider the overall look not only the pendant. Necklaces can be of various types like – Thread necklace, Opera necklace, oxidized silver necklace, Collar necklace, Dual Tone Silver necklace, Princess Necklace, and many more. There are many sites to buy necklace online in India but if you are a necklace novice you have to follow some tips to choose right necklace that will complement your look.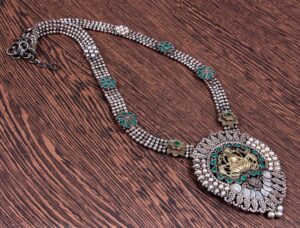 Consider the occasion 
When you pick up necklace to wear always remember which event you are going to attend. Don't choose a loud necklace for a fancy affair. Keep aside costume jewelry for costume party. A large or heavy necklace set will not fit with short dress. But a light pendant with a short chain looks cheap for an extravagant event. Do you want to stand outside in an interview or funeral because you have a larger than life type gem with a chain? Like a temple design necklace set is not perfect for a casual occasion. Always wear something light in such events. If you are too confused just carry a thin chain with a little pendant. 
Cut of your dress 
Tops and blouses hve different types of necklines and you should choose your necklace according to these designs. A choker necklace will not go with turtleneck style shirt but would be perfect for sweetheart neckline. A matching necklace will enhance the look of a crew style or scoop style shirt. The length of necklace will  be upto the blouse leckline or a little below. 
Colour of your clothes
When you match a necklace with your dress, the colour of the dress must be considered. Try to wear a neklace that is similar to the colour of your cloth. If your dress has more than one colour then you can match with any of the colour that goes better with the cloth. 
Consider your height 
Height is an important factor while choosing necklace. Necklaces are of various lengths. Women who are more than 5'7" can choose longer necklace. Because they look shorter after wearing long necklace. On the other hand women under 5'3" should wear short necklace because long necklace will make them look shorter. Short necklace range starts from 10 inches upto 16 inches and longer ones are between 16 to 20 inches. 
Face shape
Necklaces should be chosen according to your face shape. If you have a round face, wear a longer necklace that will stretch your face and add depth to it. You can choose a thick necklace without any pendant. Let's talk about angular face. 10 to 16 inches necklaces will be perfect for angular face. If you have rectangular or heart-shaped face, then it is better to opt for short necklace that will soften the jaw line. 
Body shape
If you want to attract eyes of a person to your necklace, then your body shape will take an important part while choosing the right necklace. If you are tall and thin then go for a long chain type necklace to highlight your waist. For thicker and curvaceous body the necklace should fit on the collarbone. 
Match with other jewelry 
When you wear necklace try to match it with the earrings. The shape and style of a necklace and earrings should balance each other. As an example, try a diamond shape pendant with stud earrings. Don't be afraid to carry different type of metals also like a silver necklace with gold earrings. 
A little planning can draw a fine line between your necklace and your cloth.