Summary :  This article highlights the issues with glass cleaning and the menace of hard water spots. It also discusses the need for a good and non-toxic glass cleaner that helps you clean your glass surfaces without compromising on their beauty."
Shower glass doors are a pain to maintain. They face constant water splashes which further leave water marks on the surface. Furthermore, soap scum also makes the glass dirty. Some people even face the issue of hard water. Hard water coming from showers and taps leaves calcium deposits on glass surfaces once the water evaporates. These whitish deposits are very hard to clean. Even after spending considerable time and effort to clean these, they reappear with the next use. If you get your hands on a good glass cleaner, you will be able to remove these spots easily without compromising on the integrity of your surface.
Before we discuss the properties a good glass cleaner must possess, let us read about the problems with hard water stains.
Why are Hard Water Stains a Menace?
You cannot ignore the presence of hard water stains on your glass, as if left ignored, these become even more dense and stubborn.
They ruin the aesthetic beauty of your surfaces.
Hard water spots are formed because of the deposits of calcium and magnesium present in the water, which leave a whitish residue as the water evaporates.
What Properties should a Good Glass Cleaner Possess?
With so many acidic cleaners available on the market, dealing with toxic fumes is a constant problem. A non toxic glass cleaner is an ideal choice as it does not pose any health concern. When looking for a glass cleaner, pick one that guarantees no toxic fumes emanating.
A reliable cleaner should be able to remove all the hard water spots easily without using much effort or time.
A good buy would be a product that makes your maintenance tasks easier.
Lastly, a good glass cleaner should not cause etching on the surface and should be able to remove all the calcium deposits and other dirt, while delivering an ideal clarity on the surface.
You can try Benaz – an incredible hard water remover that efficiently knocks off all the filth, hard water stains and etching from the glass surfaces. Benaz efficiently loses the dense bonds of the deposits and removes them easily. It delivers a clear surface, while maintaining the integrity of the door.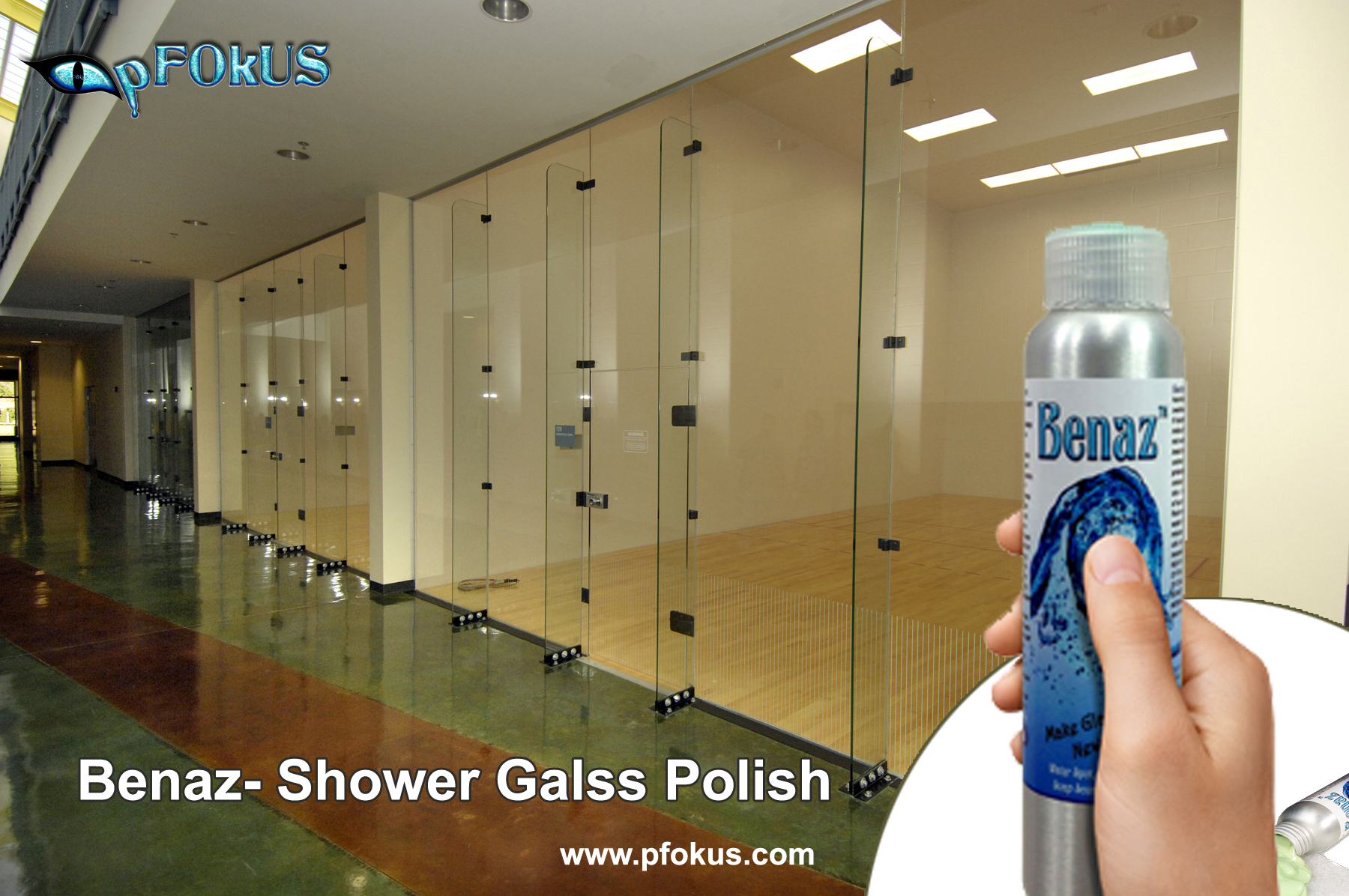 DIY Steps for Using Benaz – Non Toxic Glass Cleaner
If you want to clean your dirty glass without much effort or time, then you can try Benaz.
Apply this glass cleaner on an applicator and then rub it gently on the stained and etched glass surface.
Gently massage in circular motion until you find all the stains disappear.
Wipe clean with a dry cloth to reveal a sparkling surface below.
Once you have cleaned a dirty glass surface thoroughly with a glass-approved cleaner, you can also seal it further to prevent re-staining. After you have cleaned and sealed your glass, you can maintain it daily by using a maintenance cleaner to wipe off the superficial stains.
This product is manufactured by pFOkUS – a leading stone, glass, brick and grout restoration products manufacturing company in the US. Benaz has been formulated in the laboratories after years of research and claims to be a glass-approved cleaner. It is a tried and tested product and you can try it once to see the results on your glass surfaces.